Avete mai sentito parlare del riso di cavolfiore? È una valida alternativa per un pasto povero di carboidrati ed è semplicissimo da realizzare. Io vi propongo la mia ricetta del riso alla cantonese che potete mangiare sia caldo che freddo come contorno.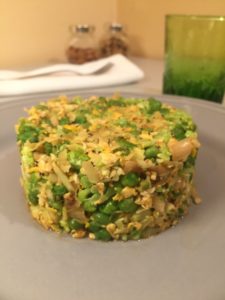 Riso di cavolo alla cantonese - Cantonese cauliflower rice
2016-11-04 19:25:00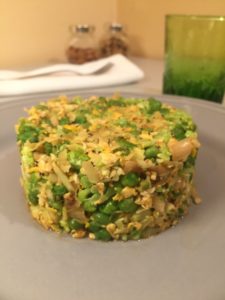 Ingredients
1 cavolo (cauliflower)
200g piselli (peans)
2 uova (eggs)
20g pinoli (nuts)
1 scalogno (shallots)
150g emmental
Salsa di soia (soy sauce)
Olio d'oliva (oil)
Semi di papavero (poppy seeds)
Instructions
Lavare il cavolo e ridurlo in pezzi piccoli, eliminando le foglie (Wash the cauliflower and break it into small pieces, removing leaves).
Con una grattugia a maglia larga ridurre il cavolo in piccoli pezzi, simili al chicco di riso (With a grater coarse reduce the cabbage into small pieces, like the grain of rice).
In una padella lasciare soffriggere lo scalogno tagliato e aggiungere i piselli (In a pan fry the shallots and add the peas).
Lasciare insaporire e aggiungere le uova (add eggs).
Rompere le uova durante la cottura in padella e far saltare il composto per amalgamarlo(Breaking eggs while cooking in a pan and fry the mixture for amalgamate).
Aggiungere i pinoli, il riso-cavolo e infine il formaggio (Add the pine nuts, rice-cauliflower and finally the cheese).
Amalgamare per qualche minuto e sfumare con abbondante salsa di soia (Mix for a few minutes and sprinkle with soy sauce).
A fuoco spento aggiungere i semi di papavero (add the poppy seeds).
HealthSoup https://www.healthsoup.it/